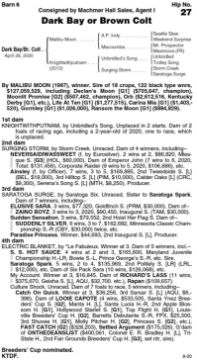 Click on the image to see full size
Use mouse wheel or two fingers to zoom in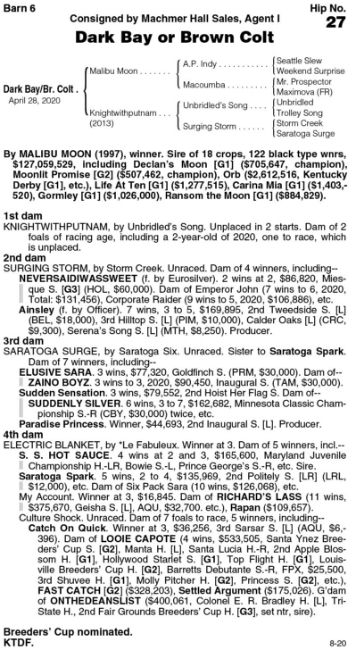 Live auction
Auction date(s): Nov 08
Lot location
Lexington, Kentucky
NAME: UNNAMED, SEX: C, SIRE: MALIBU MOON, DAM: KNIGHTWITHPUTNAM, CONSIGNOR: MACHMER HALL SALES AGENT I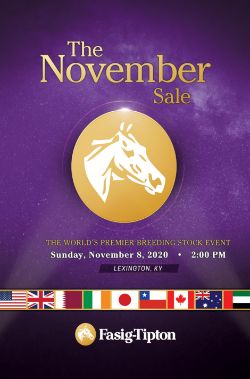 Venue address
Fasig-Tipton
2400 Newtown Pike
Lexington, KY
40511
United States
The November Sale
After the Breeders' Cup, The November Sale is one night featuring the finest Thoroughbred offerings and the world's leading buyers, in one spectacular, electric atmosphere!
Conditions of Sale
Fasig-Tipton Company, Inc. (Fasig-Tipton) is pleased to offer online bidding as part of this Sale. In order to participate by bidding online, you must register with Fasig-Tipton's online bidding platform. By registering with the platform, you agree to the following terms and conditions.
All potential purchasers wishing to bid on any horse must register as a User.
By registering as a User, you agree to (i) the terms and conditions set out below, (ii) the Conditions of Sale, (iii) Fasig-Tipton's Privacy Policy and Terms of Use, and (iv) any other terms and conditions required to register as a User for the online bidding platform.
As a registered User, you represent and warrant that:

you are at least 18 years old;
you have authority to bid on any horse on which you enter a bid and are bidding within the scope of that authority;
any information you provide to Fasig-Tipton is not false, misleading, or inaccurate in any way;
you agree to keep all personal information of your account up to date and protect your account, including your username and password;
you will not transfer or assign your account to another party without our consent;
you will not bid on any horse unless you are financially able, and willing, to pay the full bid price made for the horse pursuant to the terms set forth in the Conditions of Sale;
you understand that once you place a bid, you may not withdraw that bid.

As registered User, you agree that:

you will not manipulate the price of any horse by placing fake bids, hindering another bidder, or disrupting the Sale in any way;
you will not use any automated systems (including any site crawler, spider or robot) to harvest, access or analyze any information or content from the Fasig-Tipton website or online bidding portal;
you will not interfere or attempt to interfere with the orderly working of the Fasig-Tipton website or the online bidding portal;
you will not attempt to gain access to any portion of this website, any computer, server, account, network, software, or hardware associated with this site, from which you are restricted;
you will not distribute viruses or any other technology that may harm the Fasig-Tipton website, the online bidding portal, or other Users;
you will not engage in spamming or other conduct involving the sending of bulk electronic or unsolicited communications, chain letters, or pyramid schemes to other Users;
you will not harvest or otherwise collect information about others, including, without limitation e-mail addresses, without their consent;
you will not use the website for commercial purposes (other than the commercial purpose of participating in an auction offered by Fasig-Tipton), or post messages that contain advertising or are intended to solicit others to buy or sell services or to make donations that are outside of the intended use of the website;
you will not infringe the copyright or other intellectual property rights of Fasig-Tipton or any other person or entity;
you will not copy, reproduce, modify or create derivative works of the Fasig-Tipton website or the online bidding portal without our prior written consent; and
you will comply with all applicable laws.

You understand and agree that Fasig-Tipton may restrict, temporarily or indefinitely suspend, or terminate your account if Fasig-Tipton determines in its discretion that you have (i) breached these terms and conditions, (ii) your actions in using the online bidding portal may cause loss or damage to other Users, third parties, Fasig-Tipton, or you, (iii) any information provided by you is inaccurate, (iv) Fasig-Tipton is unable to verify your identity or any information you have provided, or (v) it is determined that you did not have proper authority to bid.
By registering as a User you consent to Fasig-Tipton handling your personal information in accordance with the Fasig-Tipton Privacy Policy and Terms of Use.
By registering as a User and participating in a Fasig-Tipton Sale, you understand and acknowledge that the Fasig-Tipton Conditions of Sale apply to the Sale and bind you in the same manner as if you were present at the auction and bidding live on any horse offered for sale.
QUICK START
Go to bidonline.fasigtipton.com to sign in or sign up for an account, view available catalogues, and register to bid.
WALKTHROUGH
Click here for a short walkthrough.
Click here for an in-depth walkthrough. Desktop or smart e-reader viewing recommended.
FREQUENTLY ASKED QUESTIONS
How do I create an account?
New users can create an account by clicking here.
How do I sign in to an existing account?
Existing users can sign in by clicking here.
I have an account. Why can't I place a bid?
You must request to register to bid in an auction. To do so, visit the sale listing by clicking VIEW CATALOG, then click REGISTER TO BID.
Will I need to establish credit to place a bid?
You will have to go through the standard credit approval process, which can be done by registering to bid through the platform. View Credit Application.
How far in advance do I need to register to bid on an auction?
We recommend that you register to bid as soon as the catalogue is available on the online bidding platform. This will ensure that you can place autobids in advance of the sale, if desired, and you will be ready to go on sale day!
I've registered to bid. Can I bid straight away?
You will receive an email when you have been approved to bid. You may receive an email or call from a Fasig-Tipton representative to complete your application to bid. If you do not receive an email approving your request to bid or communication from a Fasig-Tipton representative within 48 hours, please email bidonline@fasigtipton.com or call (859) 255-1555.
How do I watch the auction?
While signed in, visit the sale listing by clicking VIEW CATALOG, then click JOIN THE AUCTION. You will be asked to sign in again for security purposes. Sale video will play live.
Do I have to register to bid for every sale?
Yes. Even if you have been approved to bid in previous sales, you must request to register to bid in each sale separately.
Can I bid on a horse if I will not be available during the auction?
Yes! Once you are approved to bid, go to the sale listing by clicking VIEW CATALOG, then click JOIN THE AUCTION. From there, you can click on a hip in the bottom right quadrant of the screen to set an autobid and/or set an alert to tell you when the horse is in the ring. If you set an autobid, the system will bid on your behalf up to that amount.
I was the successful bidder. Now what?
A Fasig-Tipton representative will call you immediately on the phone number provided when you registered to bid to complete the Acknowledgement of Purchase.
What devices are supported by the online bidding system?
The online bidding interface works with PC and Mac, as well as on modern mobile smart devices.
Will other bidders be able to see my name or username when I place a bid?
No.
Have a question that wasn't answered here? Try our Online Bidding Walkthrough or email bidonline@fasigtipton.com and we'll be happy to help you!
Please confirm that you wish to remove your bid
Unfortunately you are no longer able to retract your bid.
Please contact customer services for more help.